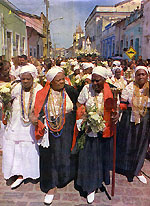 Two-hundred and twenty-two years ago, a group of venerable women of African ancestry pledged eternal devolution to the Virgin Mary and held an elaborate feast to celebrate her "good death" and the assumption of the Holy Mother's body and soul into Heaven.
Founded by pios emancipated slaves women who pledged rigorous oaths of devolution, the sisterhood of our lady of the good death is the oldest existing religious confraternity in the country. The women in this society, bound by kinship and a hierarchical social order, uphold their commitment to an ethical and moral order.
The Sisterhood originated in Salvador at a time when blacks were denied access to catholic cerimonies. Consequently religious rituals combining Catholic and Candomblé pratices were carried out in secret.
Soon several churches, including Barroquinha, Saúde, São Domingos and São Francisco de Sant'Anna, opened their doors for the festivals that emerged from the singular processions and promisses of the Sisterhood's religious order.
As time passed by the Sisterhood of the Good Death in the back-bay city of Cachoeira was the only one to survive. Their annual festival, held in August, is a grand happening led by the sumptuously bedecked Sisters, whose conspicuous gold tiligree and coral jewelry belies the reserved dignity of these religious women.
Besides the festival's outward expressions of joy and revelry, the Sisterhood of the Good Death's inestimable value lies in its perseverance in maintainning the indivisible mark of the Saints and Orixás, characteristic of Afro-Brazilian syncretism, guarded in secrecy and taboos.

Mr. Joel Gondim with some of the Good Death's
Sisters during the 1999's festival of the Good
Death's Sisterhood in Cachoeira.
In masses ans processions of a Catholic character, in ritual feasts prepered in the Candomblé tradition, in the Sister's traditional black and white robies, in the candles and flowers, and in fundamentals and cerimonies, the Good Death Festival emanates the unique character of the sole surviving Sisterhood of Afro-Brazilian women, united in their ardent faith and devolution to the Holy Mother. It is an original outpouring of faith in the city of Cachoeira, Bahia.