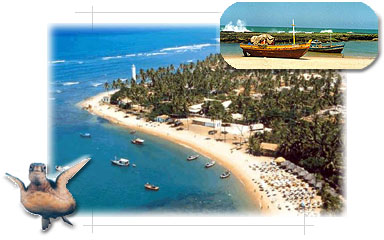 The State of Bahia has the longest coastline in Brazil - approximately 700 miles of sandy beaches, outlined by magnificent tropical vegetation. Our journey will take us past coconut trees, fruit trees, and other tropical vegetation, until we reach a "hippie village", started in the 1960's. This fantastic masterpiece, constructed entirely of local natural materials, has no running water, electricity or other amenities found in urban areas. This village, preserved in its original state, contains giftes artists and craftsmen who create wonderful art objects, live in self made houses from palm leaves, wash clothes in the lake, and continue with the life style of the hippies of the 1960's.
A twenty minute trip from the "hippie village" will bring us to the TAMAR Project, a national project for the conservation of the Sea Turtle, an endangered species. Following a brief education on man's efforts to stop the slaughter of the endangered sea turtle, we will visit a secluded beach, where we can swim or enjoy some of the best seafood in Brazil, such as delicious lobster, red snapper, oysters, and fish cakes are prepared in the true Bahian tradition by local fisherman.

Leaving the Hotel 9:00 a.m. / returning 5:30 p.m.


U$ 115.00 per person (including round trip transportation with air conditioner, lunch and english speaking guide).
TAMAR Project's Oficial Site